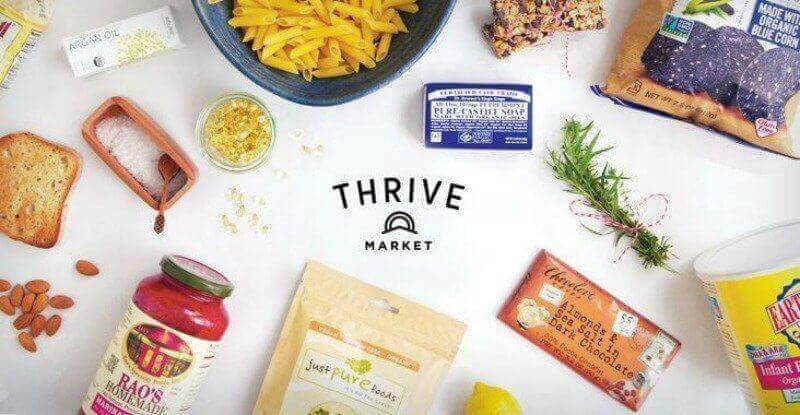 My search for real food bargains has led me to some pretty odd places. I've driven long distances to meet farmers in parking lots, joined co-ops for everything from maple syrup to coconut oil, and generally spent a lot of time tracking down the best deals. These days, though, I'm happy to say that I've found a much more simple way to save on staples.
Thrive Market is a busy, budget-conscious mom's dream. Instead of having to choose between saving time or saving money while shopping, Thrive Market helps you save time AND money. I've been shopping with them for five years now, so I thought it was time for an update on the pros and cons.
What is Thrive Market?
It's an online grocery store for organic, non-GMO and healthy products. Think Whole Foods meets Costco, only you don't have to leave your house. For $5 a month ($59.95 annually), you can go online and shop 6,000+ of the world's best-selling natural and organic products at 25-50% below retail prices.
Here's a general overview of what can you buy online at Thrive Market:
Pantry staples
Healthy snacks
Clean home goods
Safe personal care and beauty products
Non-toxic cleaning products and toilet paper, etc.
Supplements
Grass-fed beef
Sustainable seafood
Organic chicken
Pasture-raised pork
Healthy baby food like the brand I mention here
Not everything at Thrive Market is stuff I'd personally buy, but with so much to choose from I've found more than enough to make shopping with them a huge money saver for my family. If it's non-perishable and Whole Foods worthy, you're likely to find it there.
How It Works
Just like Costco you buy a membership, which in my case usually pays for itself in the first 1-2 orders every year. My first order with them came to $59.85 – on Amazon it would have cost $120.39! (And I have Amazon Prime, so that's even with free shipping.)
And just like that my first year's membership paid for itself, and has continued to do so every year. As an aside, Thrive Market promises that if you don't make back the cost of your membership in savings they'll give you the difference in credit when you renew.
Here's how it works:
Shop and save.
If after the 30 days is up you feel like it's worthwhile for your family you can continue with a paid membership. If you do, you'll also be sponsoring a free membership for a low-income family. With this membership, items like chlorine-free diapers can be purchased for less than Huggies – that's a big deal!
Is Thrive Market worth it?
Before you invest in the annual membership fee like I did, you may want to try it out risk-free for 30 days. For this Thrive Market review, I've listed the pros and cons of membership below:
Pros
It offers a lot more variety than places like Aldi
You can shop by dietary guidelines that you follow (paleo, keto, gluten-free, autoimmune paleo, low-Fodmap, Whole 30, vegan, peanut free, dairy free, organic, etc.)
30 day free trial
You can shop in your pj's, and there's FREE shipping on orders over $49
Orders are delivered in about 3-5 days
Enjoy 25-50% off traditional retail prices
Choose from two different membership options to suit your lifestyle…

Save big on a 12 month membership ($5 per month – billed at $59.95)
Try it out for 1 month at a time for $9.95 per month

Thrive Market offers free gifts and discounts via email.
Your order history is saved on the website, so you can easily keep track of your grocery budget from month to month
When you purchase a membership, together you and Thrive Market give a free membership to a low-income family
Delivered with fast, carbon-neutral shipping from Thrive Market zero-waste warehouses
Cons
An annual membership fee will be charged at the end of the free 30-day trial, so mark your calendar! If you want to cancel, do it before then.
It takes 3-5 days to receive your order, so you'll want to plan ahead
They don't offer fruits and veggies (We're getting ours from Misfits Market right now. It's all organic and roughly 40% off retail)
You pay for shipping on orders under $49. We time our orders twice a month to ensure we hit the minimum. But if you order less, shipping costs will apply.
My Approach To Shopping At Thrive Market
Every couple weeks, I order pantry staples and other items that we used to purchase from Whole Foods Market, our neighborhood grocery store, or the local health food store. Now instead of driving to three places, we order most of our staples from Thrive Market, have fresh organic produce delivered by another discount service, and visit our local health food store or farmer's market for remaining necessities.
With 25-50% discounts, we save a lot of cash that can go to special family night activities or date nights with my husband.
One of the things I love about Thrive is how it helps me stay organized. Next to every product there's a link to "Add to list" you can select to add items to your "favorites" list. Here I am adding castille soap to my list . . .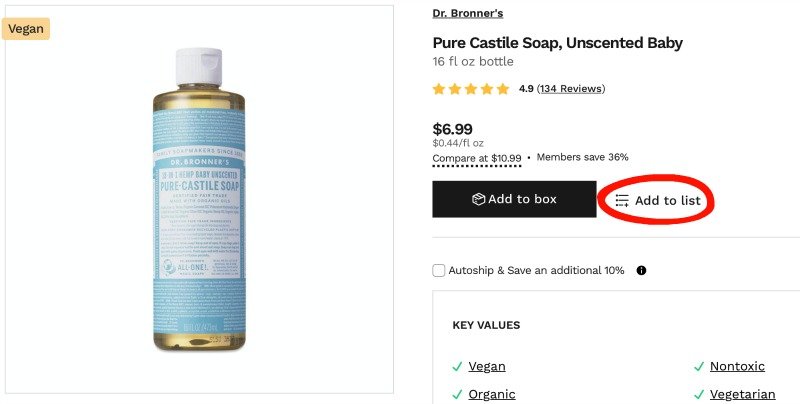 And here's a glimpse at my list of favorite brands . . .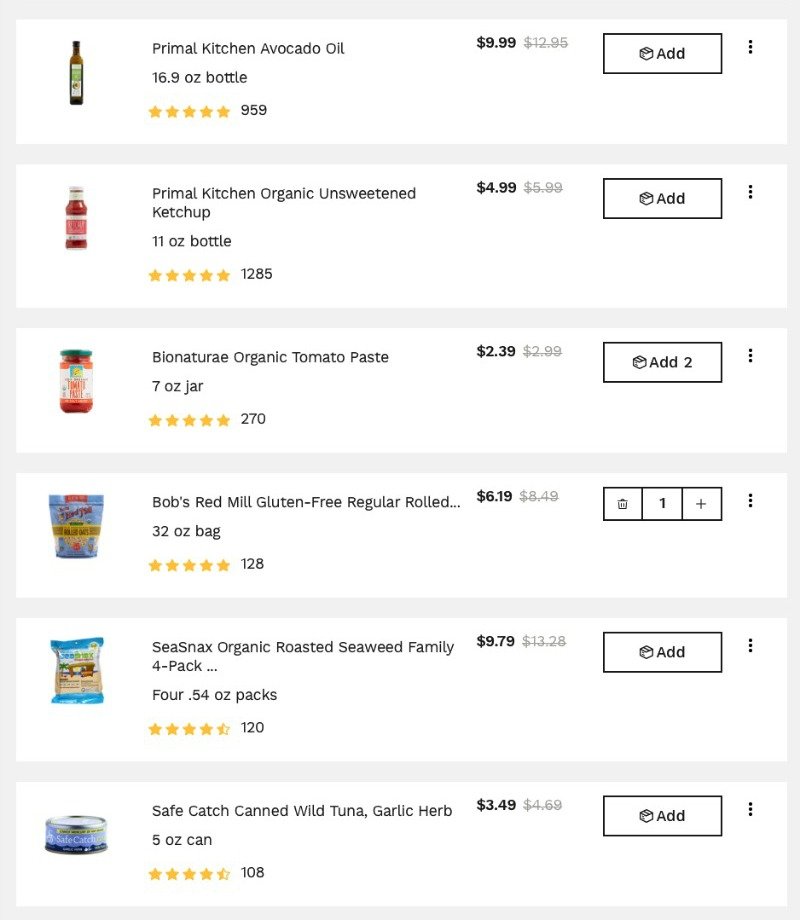 And here's a glimpse at some of my favorite Thrive Market brand items where I save even more . . .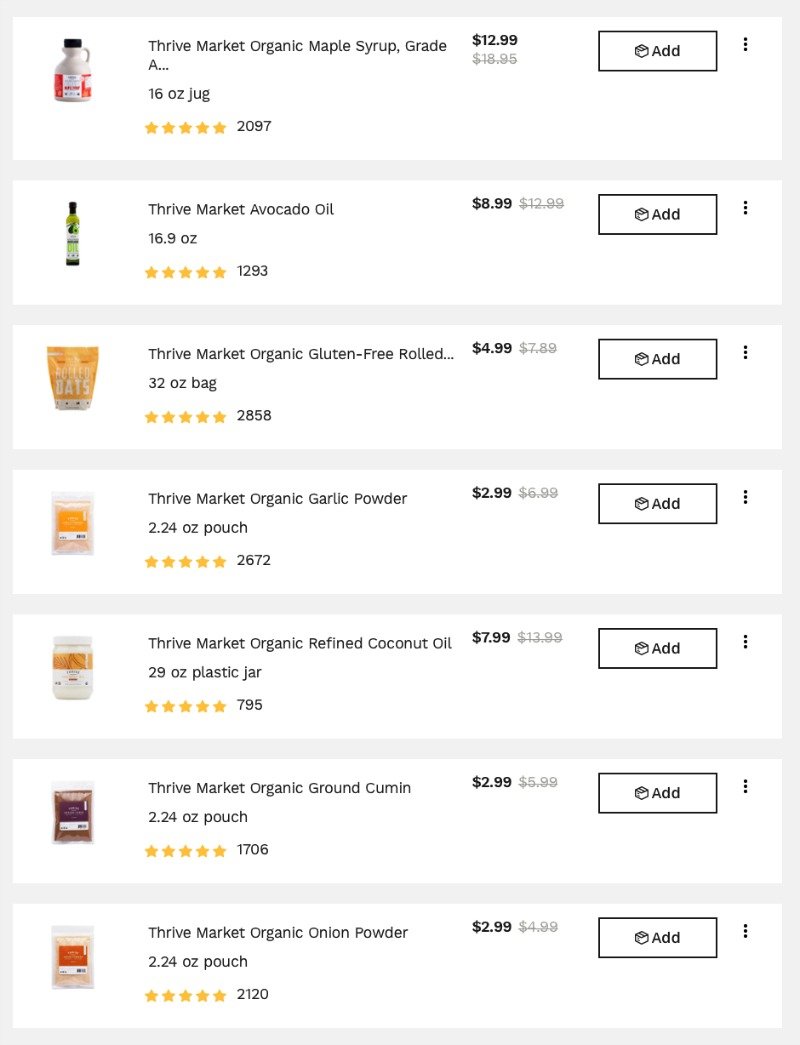 Using my favorites list, I can quickly double-check my pantry and replace staples. All I have to do is run through my list and add to my cart as needed. I order in bulk once or twice a month to keep things simple and make sure I get free shipping.
For meal planning moms, it's a faster, simpler, and more affordable than Trader Joe's. And going a step beyond my family, because I get to make a positive impact for another family who may
In fact, I believe it so strongly that my family has invested a small amount in their company. It's another way we're choosing to vote with our dollars and increase access to healthy food.
Up to $20 Shopping Credit On Your First Order!
If you're ready to see how much you can save with Thrive, click here to get up to $20 off your first order. Yes, that's $20 off items that are already priced 25-50% below retail. Also, don't forget that if you spend more than $49 you'll get free shipping, too. Happy shopping!

Continue reading Thrive Market Review: A Five Year Update…
Original source: https://mommypotamus.com/check-out-thrive-market/