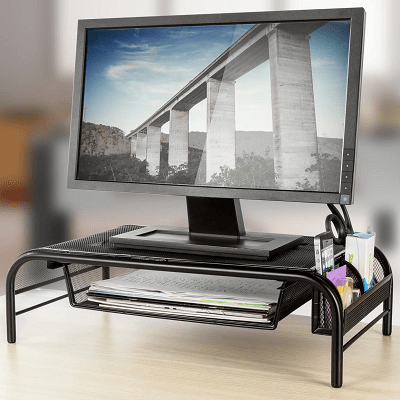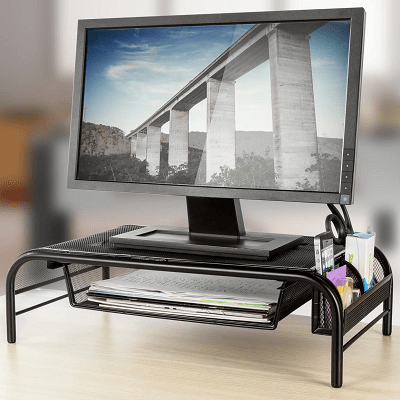 For everyone who's investing a bit more in a home office setup, I wanted to give a shoutout both to the concept of dual monitors and monitor risers, as well as to these particular monitor risers, as they're the ones I have. (You can get one riser for $23, or a pack of two for $37.) As I've written about before, I love my dual monitors way more than I thought I would; these monitor risers have made the experience even greater because the ergonomics are so much better — my neck is able to be longer and looking straight ahead instead of angled down for that slouching/slumping look we all love. (I think they call it "text neck" now…) These particular ones are great because they have pull-out trays for paper beneath the monitor, as well as side pockets for smaller papers like post-its. I actually have my monitors pushed prety far back so that there's about 2″ of space at the front for more "desk" space. I am… not the tidiest of ladies, to quote a memorable line from a book I read, so this is a double-edge sword for me because more space means more space for me to clutter. Still: ergonomics! Yes! And I do kind of know what's in the trays, as well as beneath the monitor riser, and all of that would have been just out and floating around otherwise.
This post contains affiliate links and Corporette® may earn commissions for purchases made through links in this post. For more details see here. Thank you so much for your support!
The post Coffee Break: Monitor Risers appeared first on Corporette.com.
Original source: https://corporette.com/monitor-risers/