The magic of the holiday season has been known to transcend time and space. Feeling off in May? Watch a Christmas movie. To us, The Holiday is a classic all year round. Having a bad day? Listen to Michael Buble's Christmas album on repeat. You can feel the joy and spirit of the holidays regardless of whether there's snow on the ground or what your tree looks like. It's a feeling rather than a time or season. If there was anything we needed to close out 2020, it's the proof that even after an absolute dumpster fire of a year, the holidays are still as joyful and full as ever, and finding your loved ones the perfect gift to show that you're caring and thinking about them right now is at the top of our to-do lists.
This isn't to say holiday shopping is going to be any easier this year. We all have indecisive dads (seriously, what the heck do you want, Dad?), picky BFFs, new mom friends, and those dreaded people who seem to already have everything. Plus, with potential shipping delays, less in-store shopping, and an amazing push to support many small and Black-owned businesses this year, the holiday shopping experience might take a little more thought than picking up a few go-to gift cards. So of course, we took extra care when creating our annual budget-friendly holiday gift guide to include only the best-of-the-best. We found the perfect gifts for every single person on your list (perhaps including yourself!) so you can rest easy and enjoy the holiday season with one less 2020 worry on your plate. Most of this list is under $100, and for every splurge, we found an inexpensive alternative or similar item. Pop on some holiday tunes, grab your favorite throw blanket, and switch on your twinkly lights—we're holiday shopping!
EXCLUSIVE DISCOUNT CODES:
New users save 20% at Equilibria with the code theeverygirl
Save 50% on your first month of Obé Fitness with the code TEG50
Save 15% on all kits at Cooking Gift Set Co. with the code everygirlcooks15
Save 20% at DIME Beauty with the code everygirl20
Save 20% at Carlyle Avenue with the code EVERYGIRL20
Save 10% at Follain with the code EVERYGIRL (Discount does not apply to the following brands: Josh Rosebrook, La Bella Figura, May Lindstrom, One Love Organics, OSEA, Saie, Vitner's Daughter. Offer cannot be combined with other discounts.)
Gifts for HOLIDAY CHEER
1. A Legendary Christmas on vinyl, John Legend
2. printed tea towel, Rifle Paper Co.
3. plaid button-down PJ top & plaid joggers, Abercrombie
4. french tart baking kit, Cooking Gift Set Co.*
5. plaid monogram mug, Pottery Barn
6. longwear lip color, Fenty
7. faux garland, Hearth & Hand
8. merry and bright candle, Tokki
9. festive throw pillow, Target
10. wreath, Target
11. custom pet ornament, Ape Town Animals via Etsy
12. marble stocking hangers, Bed Bath & Beyond
13. plaid scarf, Mark & Graham
14. holiday variety 4-pack chocolate bars, Lily's Sweets
15. custom tree topper, The Letter Loft UK via Etsy
*Save 15% on all kits at Cooking Gift Set Co. with the code everygirlcooks15
Gifts for the MINIMALIST
1. serum set, DIME Beauty*
2. edge wine glass, Crate & Barrel
3. skin-softening body glow oil, Sol de Janeiro
4. cut glass ring dish, Waterford | crystal ring holder, Vera Wang by Wedgwood (budget)
5. mini rattan lamp, Simply SUEL via Etsy
6. tortoise comb, Violet Grey
7. hand pomade, Le Labo
8. custom initial necklace, Grace Personalized via Etsy
9. washable silk set, Lunya | satin pajamas, Nordstrom (budget)
10. jazz club travel spray, Replica
11. maple coaster set, Louise Gray
12. calming candle, Follain*
13. ruffled marble bowl, Terrain
14. Made for Living, Amber Lewis
15. handmade porcelain mug, Franca
16. the always pan, Our Place
*Save 20% at DIME Beauty with the code everygirl20
*Save 10% at Follain with the code EVERYGIRL
Gifts for the HOMEBODY
1. shower wine holder, SipCaddy
2. meal delivery gift card, Blue Apron
3. What Kind of Woman, Kate Baer
4. cozy zip-up, Talbots
5. candle accessory kit, Amazon
6. honey hair mask, Gisou
7. bed desk tray, Target
8. pink disco candle, Carlyle Avenue*
9. metallic nail polish, Cirque
10. pom throw blanket, Pottery Barn
11. cbd bath bombs, Equilibria*
12. popcorn seasoning kit, Williams Sonoma
13. gift card, The Everygirl Online Courses
14. glass water bottle, Porter
15. popcorn maker, Dash
*New users save 20% at Equilibria with the code theeverygirl
*Save 20% at Carlyle Avenue with the code EVERYGIRL20
Gifts for the TRAVELER
1. The Essential Travel Set, Dermstore
2. to-go hand sanitizer, Touchland
3. wireless battery case, Apple | portable charging bank, Amazon (budget)
4. leopard mask, VIDA
5. weekender bag, Cuyana | renew weekender, Everlane (budget)
6. headphone splitter, Airfly
7. collapsible mug, Stojo
8. hard shell travel case, Calpak
9. mini dry shampoo set, Living Proof
10. bluetooth remote shutter for phone, Amazon
11. de-puff under eye patches, Peace Out
12. jetset case, Truffle
13. neck pillow & eye mask set, Calpak
14. bucket list travel experience, Tinggly
15. extra-long cord, Amazon
16. sonic toothbrush, BURST Oral Care
17. packing cube set, Beis
Gifts for the WELLNESS GURU
1. silk pillowcase, Moonlit Skincare
2. adaptogenic elixirs, Wylde One
3. running jacket, Sweaty Betty
4. bum bum body scrub, Sol de Janeiro
5. cbd roller ball duo, Equilibria*
6. mini air fryer, Dash
7. omega-3 capsules, HUM Nutrition
8. classic tumbler, Simple Modern
9. mini backpack, Nike
10. seamless workout set, Roam Loud
11. oversized gua sha for muscles, Amazon
12. the sex gel, Nécessaire
13. personal vibe, Smile Makers
14. level up kit, Obé Fitness*
15. Cooking Solo, Klancy Miller
*New users save 20% at Equilibria with the code theeverygirl
*Save 50% on your first month of Obé Fitness with the code TEG50
Gifts for the BEAUTY EXPERT

1. brow shaping wax & dual ended brow brush, Patrick Ta
2. sheet mask boxed set, Lapcos
3. best of lip & cheek set, Rare Beauty
4. rapid dry hair turban, Aquis
5. pink drink firming essence, Sunday Riley via Dermstore
6. mini facial toning device, NuFace | microcurrent toning device, Lookfantastic (budget)
7. ionic facial steamer, Aira
8. glow serum, Maelove
9. LED mirror with phone attachment, Nordstrom | LED makeup mirror, Target (budget)
10. custom skincare system, PROVEN Skincare
11. cleansing oil, One Love Organics via Follain
12. lipstick trio, Charlotte Tilbury
13. Glow, Joanna Vargas
14. manuka honey body balm, Advanced Clinicals
15. masters palette, Makeup by Mario
16. holiday hair fix set, Olaplex via Dermstore
Gifts for the CLASSIC FEMME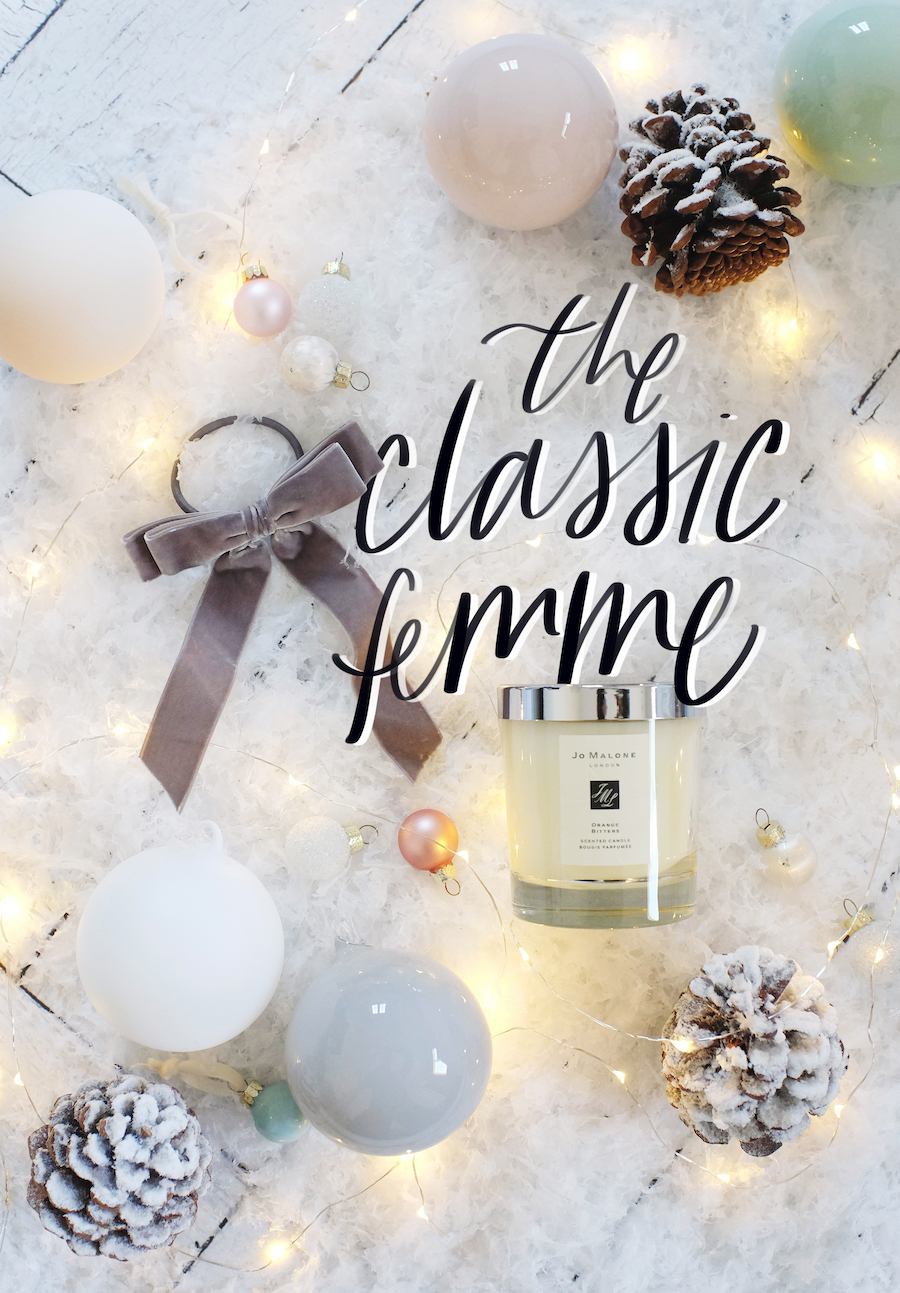 1. embroidered cocktail napkins, Biscuit Home
2. face shaping brush, Fenty
3. champagne coupe set, Estelle
4. matte black sunglasses, Quay Australia
5. tortoiseshell case, Sonix
6. classic camel sweater, Talbots
7. french pin set, Kristin Ess
8. terracotta platter, Monika Hibbs Home
9. velvet hair bow, J.Crew
10. scented candle, Jo Malone London
11. wool beret, Halogen
12. mini box bag, H&M
13. champagne ornament, Carlyle Avenue*
14. sneakers, Superga
15. HRH: So Many Thoughts on Royal Style by Elizabeth Holmes, Celadon Books
16. leather vanity case, Neely & Chloe
17. lip polish, French Girl Organics via Follain*
18. fringed scarf, & Other Stories
19. name necklace, mint & lily
20. seagrass-wrapped pitcher, Serena & Lily
*Save 20% at Carlyle Avenue with the code EVERYGIRL20
*Save 10% at Follain with the code EVERYGIRL
Gifts for the TRENDSETTER
1. stoneware incense holder, Bloomist
2. frameable puzzle, Jiggy
3. claw clip set, Rise Boutique Supplies via Etsy
4. giant scrunchie trio, Shayne
5. scented candle, Otherland
6. matchbook, Carlyle Avenue*
7. initial keychain, Cherrybomb by Amanda via Etsy
8. mask with chain, Second Wind
9. color pop coat, Talbots
10. instant glow kit, Cosmedica Skincare
11. roller skates, Impala
12. sleep capsules, Rae Wellness
13. highlighter intensifier, Rituel de Fille
14. lounge set, Amazon
15. sunglasses, Privé Revaux Eyewear
16. slingback slipper, UGG | faux fur slippers, Amazon (budget)
17. milky lip jelly, Tower 28
18. camera phone case, Amazon
19. Women Design by Libby Sellers, Quarto Publishing
20. birth flower ring, Bijoun Boutique via Etsy
*Save 20% at Carlyle Avenue with the code EVERYGIRL20
Gifts for MOM FRIENDS
1. acrylic dry erase calendar, Circle and Square Decor via Etsy
2. cozy socks, Barefoot Dreams
3. name ring, Grace Personalized via Etsy
4. matching hat set, Bitty Brah
5. illuminating rose gold serum, Cosmedica Skincare
6. gift card, Drybar
7. body wash, Nécessaire
8. "tired" mug, Little Oak Marketplace via Etsy
9. tote insert, Beis
10. custom disc bracelet, Baublebar
11. pure & glowing set, Tatcha
12. collagen & rosewater facial spray, Advanced Clinicals
13. custom embroidered sweater, Cygnet Living
14. 10 oz wine tumbler, Yeti
15. super eye duo, DIME Beauty*
16. goodnight moon baby gift box, Baby Boxy
17. La Marca Prosecco, Target
18. silk eye mask, Moonlit Skincare
*Save 20% at DIME Beauty with the code everygirl20
Gifts for the FUTURE CEO
1. monogrammed leather laptops sleeve, Mark & Graham | personalized leather laptop sleeve, Etsy (budget)
2. monogrammed leather mouse pad, Extra Studio via Etsy
3. silk face mask, Moonlit Skincare
4. neck massager, Amazon
5. blue light glasses, WearMe Pro
6. "we're in this together" sweater, ellsworth + ivey
7. Vanity Fair's Women on Women, Radhika Jones & David Friend
8. leather wireless charging tray, Courant | wireless charger, Verishop (budget)
9. the holiday cookie tin, Milk Bar
10. ice roller for face & eyes, Amazon
11. The Essential Photoshop Course, The Everygirl Online Courses
12. sheet mask, The Aftermask
13. "is it Friday yet?" mug, Talking Out Of Turn
14. monogrammed phone case, The Daily Edited | monogram phone case, Casetify (budget)
15. acrylic monitor stand, Amazon
Gifts for the DECOR-OBSESSED
1. gold monogram mug, Williams Sonoma
2. woven baskets, World Market
3. pressed floral coaster set, Mica Theory via Etsy
4. swiss dot toss pillow, Linen & Ivory via Etsy
5. holiday noir candle, Brooklyn Candle Studio
6. candlesticks, Threshold
7. no-rinse hand cleanser, Carlyle Avenue*
8. taper candles, Brooke & Lou
9. wall mirror, Threshold
10. gold bar spoon & muddler, Crate & Barrel
11. stripe throw, Lulu and Georgia
12. faux floral arrangement, Perigold | faux hydrangea arrangement, Wayfair (budget)
13. marble frames, Crate & Barrel
14. bust statue, CB2 | diana bust, Wayfair (budget)
15. blush pillar candle, Crate & Barrel
16. custom doormat, Black Butterfly Signs via Etsy
17. concrete tray, Emily's Redesign via Etsy
18. The New Southern Style, Alyssa Rosenheck | signed copy from a small business
*Save 20% at Carlyle Avenue with the code EVERYGIRL20
Gifts for the PERSON WHO HAS EVERYTHING
1. protective keychain, Gemelli
2. self-cleaning water bottle, LARQ
3. subscription, Book of the Month
4. mini wireless photo printer, Canon
5. desktop ring light, Brilliant Ideas
6. poppy manicure tool, Olive & June
7. custom illustrated portrait, The Babe Shop
8. treat-tossing pet camera, Furbo | petcube camera, Amazon (budget)
9. cozy throw blanket, Barefoot Dreams | snug as a bug blanket, Apricot Lane (budget)
10. RHONY coloring book, Shop Hello Harlot via Etsy
11. UV hand sanitizer, MediPop
12. bluetooth karaoke mic, Amazon
13. laptop camera cover, Lee London
14. digital subscription, Obé Fitness*
15. "Luke's" mug, BethLynn Designs via Etsy
*Save 50% on your first month of Obé Fitness with the code TEG50
Gifts for the GUYS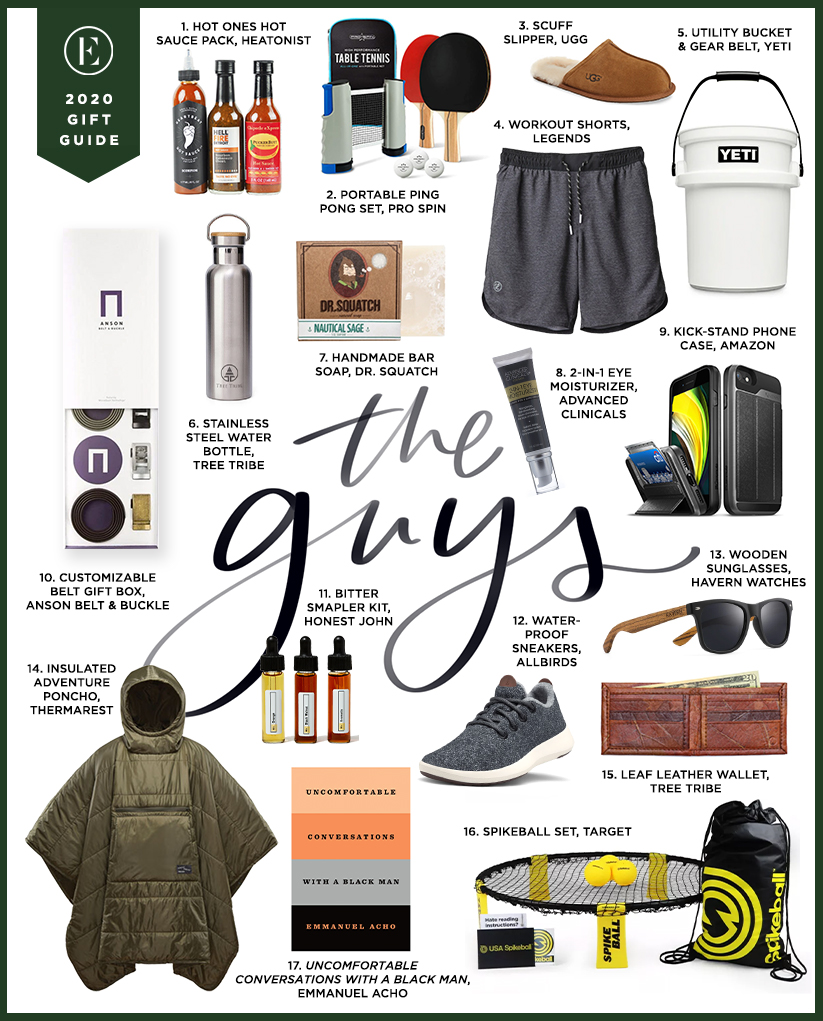 1. Hot Ones hot sauce pack, The Heatonist
2. portable ping pong set, Pro Spin
3. scuff slipper, UGG | lonny slipper, DFW (budget)
4. workout shorts, Legends
5. utility bucket & gear belt, Yeti
6. stainless steel water bottle, Tree Tribe
7. handmade bar soap, Dr. Squatch
8. 2-in-1 eye moisturizer, Advanced Clinicals
9. kick-stand phone case, Amazon
10. customizable belt gift box, Anson Belt & Buckle
11. bitter sampler kit, Honest John
12. waterproof sneakers, Allbirds
13. wooden sunglasses, HAVERN Watches
14. insulated adventure poncho, ThermaRest
15. leaf leather wallet, Tree Tribe
16. spikeball set, Target
17. Uncomfortable Conversations with a Black Man, Emmanuel Acho
Gifts for COZY CHIC
1. bibliothèque room spray, Byredo | home spray, The Laundress (budget)
2. cozy knit robe, SKIMS
3. Moira Rose mug, All Jolly Gifts via Etsy
4. teddy pillow, Pottery Barn
5. the popper popcorn bowl, CB2
6. refillable marble candle, Gilded Body
7. coconut bath soak, Herbivore
8. ultra soft throw, UGG
9. fuzzy slippers, The White Company
10. cocktail kit, Terrain
11. Venus de Milo bottle opener, Doiy
12. lip balm, Summer Fridays
13. fluffy socks, UGG
14. cozy knit pant, SKIMS
15. knit scarf, aerie
16. weighted blanket, Amazon
17. hot cocoa kit, Food52
18. sherpa zip-up, Abercrombie
Gifts for our MOMS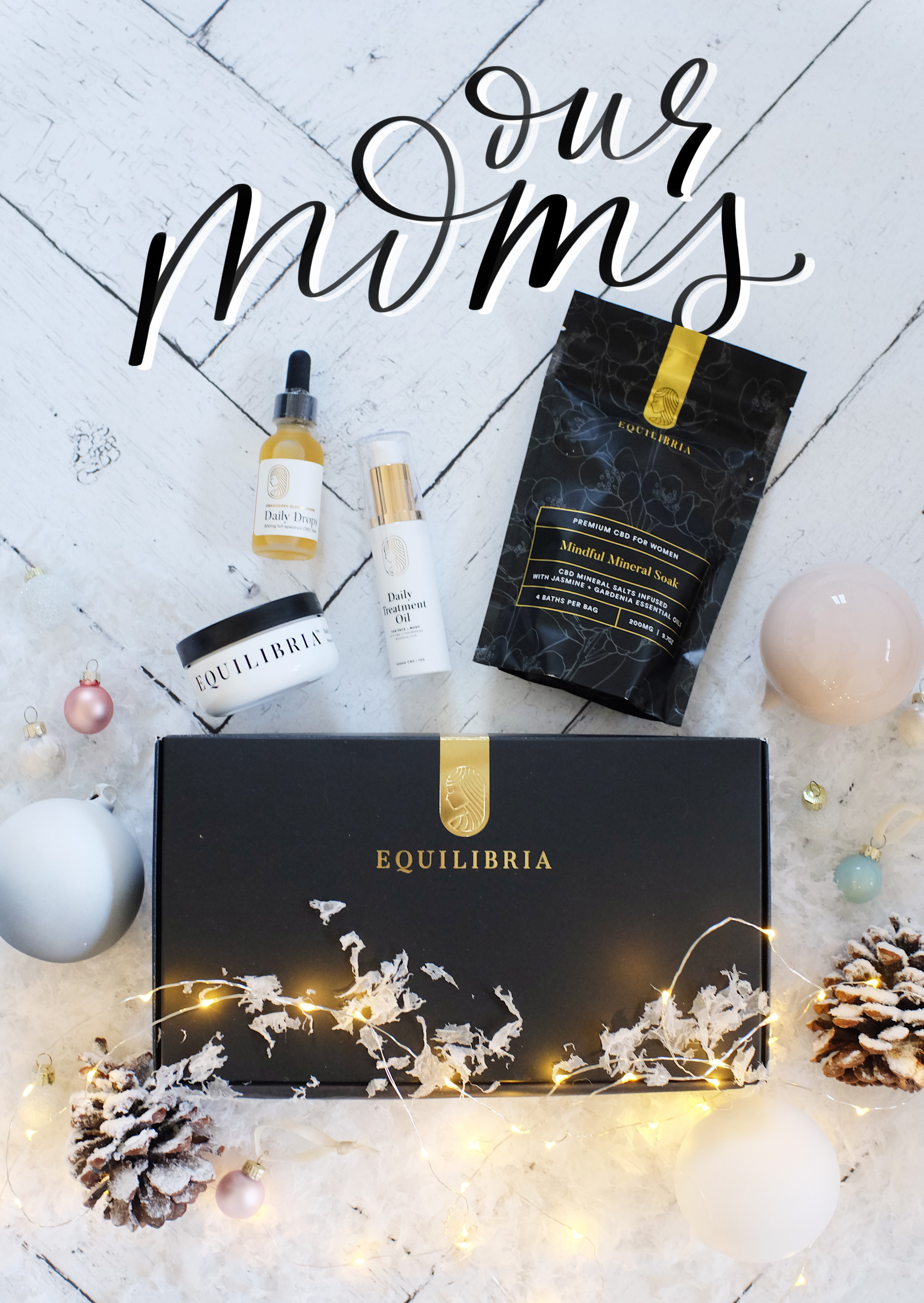 1. hardcover photo book, Artifact Uprising
2. bronze & glow set, Charlotte Tilbury
3. beauty butter, 54 Thrones
4. Le Labo rose signature detergent, The Laundress
5. monogram cards, Augusta Joy Stationery via Etsy
6. v-neck sweater, Amazon
7. personalized recipe platter, Our Platter via Etsy
8. restorative night cream, DIME Beauty*
9. artisanal olive oil, Brightland
10. bath oil collection, Aromatherapy Associates
11. bracelet Apple Watch strap, Rebecca Minkoff
12. initial necklace, Monday Monarch via Etsy
13. flower press kit, Jayson Home
14. New World Sourdough by Bryan Ford, Quarto Publishing
15. comfort of calm gift set, Equilibria*
16. velvet loafer, Birdies
17. décolletage mask, The Light Salon
*Save 20% at DIME Beauty with the code everygirl20
*New users save 20% at Equilibria with the code theeverygirl
Gifts for our DADS
1. The National Baseball Hall of Fame Collection by James Buckley, Quarto Publishing
2. under-the-desk bike, Amazon | compact strider, Amazon (budget)
3. espresso machine, Nespresso | k-cafe coffee maker, Keurig (budget)
4. ancestry kit, 23andMe
5. personalized whiskey decanter, Swanky Badger via Etsy
6. wood record frame, CB2
7. open ear headphones, Amazon
8. quarter zip pullover, Patagonia | quarter zip fleece, Patagonia (budget)
9. deep tissue muscle treatment, TheraGun | massage gun, Amazon (budget)
10. protective face mask, VIDA
11. bi-monthly steak box, Omaha Steaks
12. TV soundbar, Bose
13. spun slipper, Deer Stags
14. zoom binocular, Nikon | binoculars, Gosky (budget)
15. putting green, Amazon
16. wifi smart plug set, Amazon
17. wood smoked barbecue set, Cooking Gift Set Co.*
*Save 15% on all kits at Cooking Gift Set Co. with the code everygirlcooks15
The post The Everygirl's 2020 Budget-Friendly Holiday Gift Guide appeared first on The Everygirl.
Original source: https://theeverygirl.com/holiday-gift-guide/